Robert Tsoi
We now live in a world of uncertainties and adversities, which in unparallel business, all of a sudden we are overwhelmed by death of tens thousands of lives and the news of go bankruptcy and job cuttings as the whole world is unprepared and under attack for COVID 19. You might feel lonely and helpless when facing the immediate unexpected changes, however, someone could embrace the challenges and take the bull by the horns if the person believes there is a God and has deep understanding of the truth of "eternity of change".
A row of Robert Tsoi's office windows are facing the beautiful Victoria Harbor of HK but what noticeable is the couplet in cursive hand writing: "A bruised reed shall he not break, and the smoking flax shall he not quench: he shall bring forth judgment unto truth." Non christians also feel the ambience of protection to the weak while looking forward to the future. The couplet is actually cited from bible scripture <<Isaiah 42:3>> which prophesied Jesus' coming to the world to protect those who are weak, hurt and persecuted; it also shows a reflection of Robert Tsoi's life, breaking through the adversities and walking out of hardship and excelled by faith.
"I often say I have a very traditional family: one father, two mothers, three sisters and four brothers. My parents are not well educated and worshiping ancestors". Being the sixth child in the family, Robert had reasonably well caring in his childhood and after his high school, he was asked to study in the UK by his older brother and encountered the first adverse circumstance in his life.
Missed Cambridge University but gained gospel and love
"My English was not good enough back at the time, couldn't fully understand what the teachers say in the class, fortunately, there were extra English classes available at the boarding school". Being in an unfamiliar circumstances and having limited language skill, he could only buckle down to study hard. Although he adapted to the studying environment in Britain, he failed to enter Cambridge University that he dreamed for and attended the University of London after wasting two semesters which is not bad at all.
However, every coin has two sides, the change allowed him to meet his first girlfriend then, his beloved now wife, in London, accepted Jesus and baptized because of her. "I decided to believe in Jesus as I experienced the caring from the brothers and sisters in the church, and now my wife and I have been married for 40 years!" Robert's face was full of sweetness and satisfaction while telling his story, he might think it's difficult for people who sees relationship easy today to fathom the deep love of 40 years, a good story of lost and found.
Having accomplished his study in the UK, met true love and true God with a decent job, Robert decided to go back to HK because of two things: non Christian believing parents and the lack of challenging working culture. Nevertheless, as an accountant, he decided to work in a newly established company as a "frontiersman" in 1979 when he is back in HK which turn adversity into blessing and transformed his life.
Did he have to start from the scratch without good options? In fact he had three good offers in his hand, two of them were public listed companies, not only with good welfare but also he could work as an accountant as the job he is used to; however, after all, he chose to join in a newly founded company called "M.C. PACKAGING", back then it was located in an rural industrial village in Taipo with the proximity to heavy machines and irons, truly started from zero working as an administration manager in his early twenties.
"Recalling my memory, the peace I had in my heart after praying and with the support from my wife that gave me the courage and confident to try to walk a road untaken."
New to management, developing business by faith and integrity
Every cloud has a silver lining, the result is that the company rapidly developed its business to mainland China and the number of factory buildings increased to ten from just one. Five years later Robert was promoted to assistant general manager, enjoying company shares and housing benefits that made his life well with reserves. Most importantly, his gained trust from his managers by faith and good work ethic as he continuously experienced the wonderful guidance of God during the years of working.
One year, the procurement director purchased high-quality aluminum plate raw materials from Japan which not only had deviation in later cutting process but the price was excessively high, led to production line frequent stops and financial loss for the company. It was later found that it is the supplier's mistake so the company demanded for return of goods according to the international practice, and cancelled all the orders of the year. After praying together with the procurement director, the Japanese supplier agreed to reduce the price, and subsequently this business turned loss to profit for the company. More importantly, this helped the procurement director believing in Jesus, Robert deeply believes that God is behind this.
He thought this job was stable enough for him to retire, but it was not plain sailing as expected. On the 18th year of working in M.C. PACKAGING, March 1997 the year HK return to China, Robert turned unemployed from a managing director in power as the victim of company acquisition. He was ruthlessly asked to pack and leave in three days by the new owner without having a chance to negotiate the compensation. However, Robert, as someone who deeply believes God is leading, took it as an opportunity of stepping closer to God.
"When I walk out of the office building, there was surprisingly no or remorse, or regret.  I was thinking that God is with me although I had no clue where the next stop will be". Surprisingly, M.C. PACKAGING's profit plummeted after two years financial crisis in 1997 after swapping the owner. Looking back, there is always a way out, it looks that Robert had just avoided a flood by going through what Noah did.
Set off for God, change culture and spirit
After Robert left his former employer, he joined Sun Hung Kai Properties Limited, another adverse circumstance laid ahead of him. Getting into the construction and real estate industry, he had to learn many things from zero as he only had experiences in industrial business. In his previous industry it was unacceptable to have three defects out of a batch of carbonated water bottles, whereas it was somehow reasonable and acceptable to have dozens of leaking windows in a newly built mansion. The Sun Hung Kai's owner wanted to change this kind of corporate culture and wished to send gospels to his employees, therefore he audaciously employed Robert who had completely no experience in construction industry. Meanwhile, Robert also boldly accepted this invitation with the same perception.
"I spent five months carefully thinking whether I should get into an industry where I had totally no experience while holding two offers in hand, one of them actually offered 60-70% of higher salary. Then God told me during my prayer : "Whatever decision you make, I will bless you. The questions is what do you want in your heart?" Fulfilling his life by staying in a spirit comfortable zone comparing to walking in a new path by trusting in God, Robert chose the latter option SHK as he wants to live for God from the bottom of his heart. He consequently walked through all the difficult circumstances and faced all the challenges with the faith in God. It has been 23 years past, although he is already at retire age, he can still work in the company as a consultant and endeavor to contribute to the corporate culture of "set home by heart" and gospel mission.
As Robert experienced God who takes him out of the adversity in his work again and again, he truly believes that the faith of God is not only for him but he shall share it with everyone he encounters in daily life. As a result, he spent a lot of time in evangelism, whether it had be a colleague in the construction field, or a waiter/waitress in a restaurant, he never forgets to preach Jesus. "One time when I had dinner with few pastors, I felt the waitress' hand had some problems, and I asked her tenderly and she was surprised how we knew it. After our praying of healing her hand, the pain immediately all disappeared!" Robert says he experienced many of such miracles, because of his unconditionally believing, God is with him everyday. "Believing in God is not Sunday's routine, but every day." A number of construction workers also experienced God's healing and there have been more than a thousand of people baptized, Praise our Lord for his greatness!
Grasp true God, joyfully facing new challenges everyday
The whole society has been divided and in huge disturbance since the social movement of last year and the COVID19 this year. However, Robert utterly believes that the true peace will come as long as our spirit goes back to the Lord, the creator of the humanity, and trust in Jesus. Like what happened in Italy when the country was fighting hard off the pandemic, a priest rested in peace in the arm of his creator after giving his ventilator to a young patient to save his life and that touched the paramedics treating him realizing the priceless and unattamable peace in the world.
"Only when human go back to the love of God father can they re-build normal family and kingdom." Just like the couplet in his office: A bruised reed he will not break, despite the multiple problems in the society, He doesn't want us to aggravate but to re-build the trust of people and societies in faith of God. Similar to Joseph who was sold to Egypt for decades in the old testament of bible, or Daniel who was push into the lion den by King Nepuchadnezzar, as long as we behold and unto God, you can survive in adversity and even become the savior of our compatriots. Someone ever said: if you are sure God is guiding you, you don't need to know where you will go next. Can we also have this faith when facing the changing world?
They replied, "Believe in the Lord Jesus, and you will be saved—you and your household." Act 16:31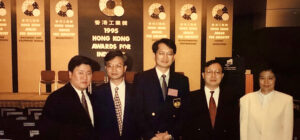 Hong Kong Awards for Industry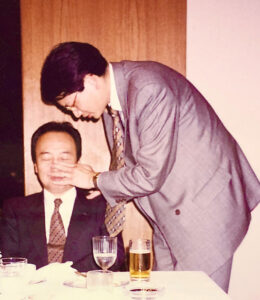 Japanese GM recieved Healing from Hay-Fever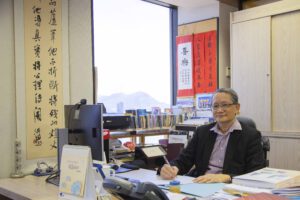 Robert's Office faces the Victoria Harbour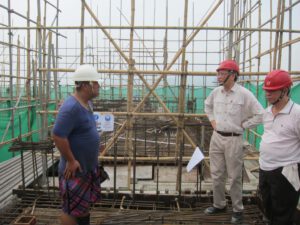 Inspection on Roof Top of a Construction Site

Caring for Site Workers Safety and Welfare