Roger Li
I was born, bred and grew up in HK, a native villager in the then remote New Territories.
Growing up in the early 50's our subsistence livelihood was farming a few plots of land.
I was raised in that era, spending a memorable childhood roaming around the countryside, eking out an almost hand-to-mouth existence by looking after cattle & poultry and trying to help out in the fields! The nearest town was Tai Po which was an hour's walk away.
Leaving home at the tender age of 7 for Tai Po, I lodged in an uncle's place in order to get some formal education. But it was difficult to be assimilated into the system, young though I was.  I came bottom of the class consistently, and in the meantime switched to 4 different schools. If my school reports had said I was a "consistent pupil", they would still be reporting the truth, but in a misrepresented way.  
We villagers were deep in worshipping traditions and ancestral rites fearing the gods' wrath if we displeased them. We were entangled in our so-called custom and culture!  Jesus somehow said that He would free us from such bondage!
I wasn not academically bright, school life was nothing dramatic – it was just a means of passing the time.
Fortunately, many of those NT villagers in my generation had the opportunity of making a livelihood in the UK. I gladly started this new phase of my life when I was about 14 years old, with a simple suitcase.  I said goodbye to my beloved grandmother, and mounted the plane alone.
While working in a restaurant kitchen, a local policeman having an early dinner noticed me and asked for my age.  With great difficulty I managed to glean from him that, because I was under 16, I was not allowed to work full-time.
As a result of that meeting, I was enrolled in a local secondary school and the headmaster gave me the name Roger.  I started school in Britain at Form 3, hardly knowing a word of English.  My mind was totally blank because I had no idea what the teachers were talking about.  Nonetheless, I enjoyed the school activities as any young man would.
Just at that time an old school friend became a Christian.  She sent me a bilingual New Testament Bible which helped me follow up what the teacher talked about in Scripture class and improved my English at the same time.
I did not have a family in England and never grew up in a cozy, stable and warm background.  Most of the time I had to fend for myself and thus I had to move from town to town for a variety of reasons.  In total I attended 5 secondary schools and I ended up in a grammar school in Birmingham doing my A-Levels.
While in Birmingham I met some Chinese nurses while serving them in a take-away food shop.  They were many years my senior and we found a special bond speaking in Hakka, our common language.  They invited me, a scrawny kid then, to attend their Chinese Christian Fellowship! I enjoyed it & after some struggle, I was baptized and joined in enthusiastically.
I got married when I was 20 and started articled clerkship to be a chartered accountant. It was a totally new challenge, I felt so inadequate but God had provided perfectly a position for me.
On the day I started work, I was given a rise and 3 salary increases in the year. I was qualified after three years and extended my experience with an international firm of accountants. Thereafter I set up my own practice in the Chinatown.
I was involved in various charities, NGOs, community works, health and Royal commissions, both locally and in national bodies. Half of my time was spent outside the office were in these areas but God had blessed me and I managed to cope well.
I gained my MBA degree and JP appointment at 33. I sort of became a celebrity engaging every night in functions! I became a successful young man, but I got puffed up and arrogant, seldom going to church.
At the height of my career and prime of life I left the scene and came back to Hong Kong.  It was all very incomprehensible to me and others. But God has His sovereignty over everything. He gives and He can take away all for the good of His children because He knows what He is doing.
While is in HK I started going to church and I met a FGB brother, he brought me to a new dimension of spiritual awareness in the FGB. We have now been meeting regularly in Tai Po and lately in Fanling in the last 10 years. We also set up an outreach platform in Fanling village by providing foot steaming therapy to the locals but the main aim is the vehicle to preach the Gospel to the grass roots.  We have reached well over 200 people, holding many gospel dinner-meetings & through them many have been saved."
I am now a $2 public transport fee payer.  As I look back at my life, I am grateful to His mercy and how He has taken me out from a gloomy and miserable background of a disadvantaged country boy to a new life, transforming me to a different dimension beyond one's expectations!
How I marvel at His timely intervention and equipping me to change the course of my life. How I can personally witness His great power in defying the odds in signs, wonders & miracles.
Jesus is the name above all names, every knee shall bow and give glory to the Father.  In Him I have peace.  At my most vulnerable age, He comforted me, directed my destiny and changed the course of my life. He who is on the throne is to be praised.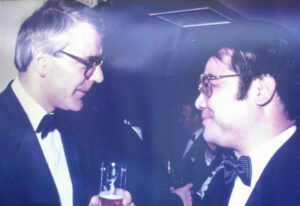 Having a beer with the then Prime Minister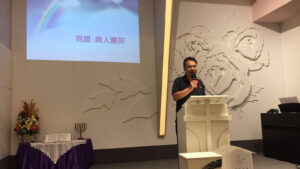 Giving testimony at a Baptist Church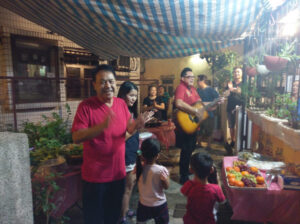 At our Fanling foot -steaming therapy, a gospel platform, BBQ held with the locals enjoying singing & praises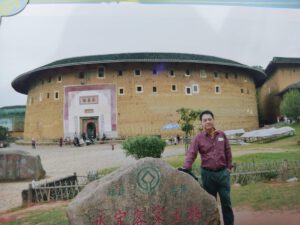 A mainland trip to a Hakka village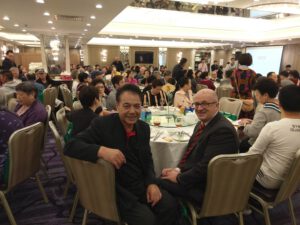 A joint gospel dinner of FGBAOG,with the speaker Bill Pike