Martin Copp
Lives are full of choices and decisions, twists and turns along the long road of life. Certain decisions made 20 years ago that were optional for me, caused me to be in Hong Kong. The decision brought relationship, prosperity and Hong Kong.
Early life in Australia
20 years ago I lived in Jervis Bay, South Australia, I was already a Christian. I had my own business involving general contracting for builders/developers in that district. My business grew and over a period of 11 years was very solid and stable. I was happy and enjoyed beach and healthy outdoor activities life.
My life turning point
One of the preachers visited our church regularly I found him very inspiring and I had a strong desire to assist his church. The passion to serve the Lord Jesus started to overtake my thinking of "What about my good business? It's a shame to walk away from it", "What about my equipment and machinery?", "My family will think I'm being too fanatical?" and "I still have a mortgage on my house".
The struggle went over a few months, but eventually I decided to serve the church by faith in full time basis, my heart was full of incredible joy. I spread the news in my business and social network, and the response was shocking and somewhat negative, only a couple of Christian brothers were inspired.
Selling properties
I contacted a property agent and told him I was going to sell my house, even he would tell me to rethink my plans. For a commission based property agent to give me advice like that now can be quite remarkable! Nonetheless the home was sold within a month.
My last construction project "a waterfront house" was also sold to a friendly competitor who was a non-believer, he was very happy to see me leaving town. Afterwards I moved to Sydney where I leased an apartment convenient to the Church.
I enjoyed my church work
Months went by and I enjoyed the church administration, encouraging people, warm calling, worship leading activities and hard-working for good success. People would come to the Church and receive healing and family support as well as be encouraged in the Lord.
An amazing gift
God gave me an amazing gift "The Gift of Cold Caller" I still carry into the office today, and it remains very effective and enjoyable, the project opportunities I develop for my present company are quite high.
A cheerful girl
My cooking was very boring, so I searched for a suitable restaurant nearby my apartment. I found it easily and noticed a cheerful pleasant girl working there I would wait for the right time to say hi! "Where are you from?", "I'm from Hong Kong and I'm a university student". So a few evenings every week I made certain to be at my favorite happy dinner table at the right time…just to say hi!
Preached Gospel at worksite
As my cash reserve reduced I started to look for paid work to do. God prepared me a job at the construction site nearby my apartment for 1 or 2 days a week, so I got to preach the Gospel to quite a lot of workers there.
I made more money in full time ministry
Eventually God directed me back to Jervis Bay. The property agent was extremely excited to come to see and advise me to sell my lands. He told me that all the prices in this district skyrocketed triple in value!
Praise Lord! I made more money being in voluntary full time ministry than actually working at my normal day business. Isn't God amazing?
And remember the 'waterfront-house' I handed over to a friendly contracting competitor? The project was postponed after I left. The clients soon found me after my return and wondered whether I could re-commence the project, I immediately agreed. Time seemed to have stood still, within a few weeks, my former business re-erected.
My cheerful girl
Every weekend I'd drive up to that restaurant in Sydney to meet my cheerful girl Sze Ming Wanda. We got married in an Anglican Church in a small country town.
Blessing continued in Hong Kong
God's blessing runs right through my life in Hong Kong covering my happy wife and sweet daughter Sophia, you can see it in their faces. God loves your family and blesses your household just as much as He loves us.
20 years ago, the Lord put desire into my heart to serve Him in a certain way, He knew my future and directed my path. In that future was my wonderful wife and child…citizens of Hong Kong.
I encourage you in the Lord Jesus, in your faith that He died on the cross of Calvary, to enable victory for all people of the earth, heaven is as real as Earth!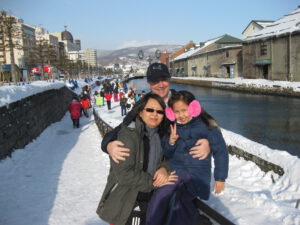 Brother Martin Copp is the Business Development Manager working in the Interior Design Industry, he and his lovely wife Wanda and daughter Sophia attend church service regularly at City Church International.